UFC star Conor McGregor has posted bail after being arrested and charged with multiple offences by police in Florida.
McGregor was arrested on Monday for an alleged incident at the Fontainebleau Miami Beach hotel, according to the Miami Herald.
Miami Beach Police Department has since confirmed McGregor was charged with strongarmed robbery and criminal mischief. The Irishman, 30, was held on $12,500 bail but was later released.
Here is UFC star Conor McGregor exiting the jail after posting bond on criminal mischief and robbery charges related to a phone incident. He didn't want to speak, escorted to Black Escalade by someone on his team and quickly left. pic.twitter.com/ZqdUgVd1ZN

— Cameron Wolfe (@CameronWolfe) March 12, 2019
"Last evening Conor McGregor was involved in a minor altercation involving a cellphone that resulted in a call to law enforcement," Samuel J. Rabin Jr., a Miami-based attorney representing McGregor, said in a statement.
"Mr. McGregor appreciates the response of law enforcement and pledges his full cooperation."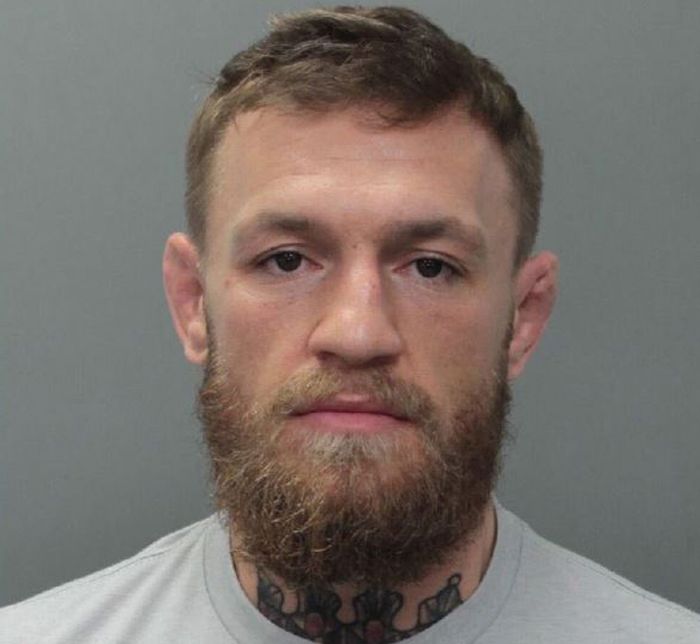 McGregor allegedly smashed the fan's phone at about 5am. The hotel contains a well-known nightclub, Liv, which is open from 11pm to 5am.
TMZ reported that McGregor and the fan were leaving the nightclub at the same time, when the fan attempted to take a picture. McGregor allegedly slapped the phone from his hand and stomped on it several times.
MBPD has arrested and charged Conor McGregor, DOB: 7/14/88, with Strong Arm Robbery and Criminal Mischief, both felonies. Please see arrest report and booking photo below. No additional information will be provided. pic.twitter.com/9HdkRWPnd8

— Miami Beach Police (@MiamiBeachPD) March 12, 2019
McGregor was apparently on holidays in the area with his family, including girlfriend Dee Devlin and son Conor Jr.
TMZ claimed that his probation had only just ended after the UFC 223 bus attack during April last year in Brooklyn. McGregor eventually pleaded guilty to one count of disorderly conduct for throwing a dolly through a window of a bus containing fellow UFC fighters.
McGregor is yet to confirm a return fight after losing to Khabib Nurmagomedov last year, but has been touted to fight Donald 'Cowboy' Cerrone in a popular UFC match-up. (via nine.com.au)